Discover the Perfect, Relaxing Date Day: A Tranquil Couples Massage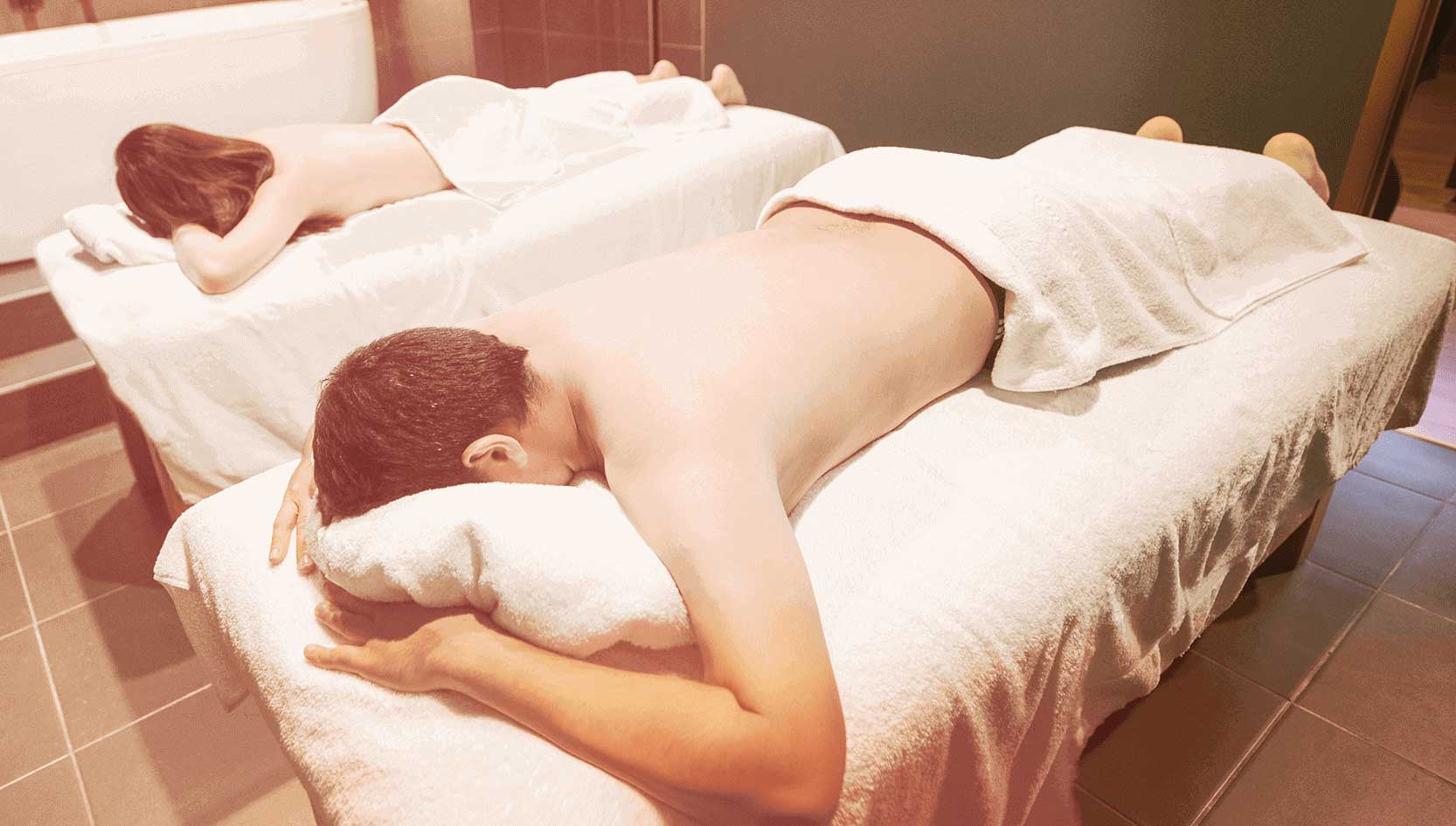 A couples massage — whether it's the full package complete with spa time or just a quick getaway to ease tired muscles — is an ideal date idea for any couple. In fact, it can be a fantastic way to solidify and strengthen your relationship, while looking after yourself all at the same time.
What Is a Couples Massage?
A couples massage is when you and your partner — or even a best friend or family member — receive a massage and other soothing spa treatments together. This can be a great way to spend time together, plus walk away feeling refreshed and rejuvenated. As a result, you'll find many massage parlours and spas offer massages for couples, including dedicated packages to make it a truly special experience.
What Does a Couples Massage Include?
What is included in your couples massage package can vary between spas. However, you can generally expect to enjoy a massage side-by-side with your partner in a private and calming space. These can be different kinds of massages, too, to suit your personal preferences and needs. For example, if you have an active job or work long hours in an office, you might like a deep tissue massage to deal with aches and pains in your shoulders and back. On the other hand, your partner may prefer a hot stone massage to leave their muscles feeling luxuriously loose and relaxed. As with a regular solo massage, you can also let your massage therapist know if there are particular areas or muscles you would like to focus on.
Depending on your massage package, there may also be additional services you can pick and choose from so you can both enjoy the experience together, even if you aren't having the exact same treatments. For instance, while you might love to get a manicure and pedicure, your partner can instead get a facial. This ensures that you both feel comfortable and satisfied with your massage and spa experience, while also getting to spend some quality time together when you both feel relaxed and at peace.
How Much Does a Couples Massage Cost?
Prices for massages for couples vary depending on a range of factors. This includes how long the massage goes for, if there are other spa treatments as part of the package, and the spa that you visit. At V Hotel Spa in Melbourne, our couples massage packages start at $390 all up for a 2.5-hour experience, including an hour couples massage and an hour facial or body treatment. It can be a way to end a magical day together, like after a picturesque picnic or lunch at your favourite restaurant. Alternatively, it can be the focus of your date. Imagine getting up after a leisurely sleep-in, arriving at our tranquil spa for several hours of pampering, and then heading home feeling relaxed and stress-free. You can then snuggle up with your partner and enjoy that almost-floating happy feeling that comes with a great massage.
5 Reasons Why a Couples Massage Is the Ultimate Date
From casual coffee catch-ups to romantic dinners under the stars, there's a world of date ideas out there. Some may be more appealing to you than others but very few can boast the benefits of a couples massage and spa date.
1. It's a Chance to Try Something New Together
While professional massages are certainly more commonplace than they once were, there still are many people who have never had one. This can be for a range of reasons, from prices to perceived need. However, everyone can benefit from a massage — even just a quick 15-minute relaxation massage. Similarly, you may not have treated yourself to all the spa and massage options out there.
Therefore, chances are that either you or your partner — or both — will find a couples massage a new experience in part or as a whole. Sharing new experiences can be a way to help each other grow, while also learning more about yourself and your partnership. You can help each other feel comfortable as you try something different, while also enjoying the novelty together.
2. You Can Indulge in a Luxurious Break From Your Routine As a Couple
Routines and habits are comforting in their own way. However, they can also begin to feel boring or even downright oppressive after too long. Changing things up — even just for a few hours or the day — can be just what you need to reconnect with one another, finding that spark that brought you two together.
Getting a massage together is one way to break the routine. It's an opportunity for you both to live large without breaking the bank and enjoy every second of it. During the massage, you can talk to one another about your lives, hopes and dreams, or you can simply enjoy being in one another's presence. Then after the massage, you can return to the routine, knowing that you both care for one another and looking forward to another chance to spend time together.
3. You Can Be Together Without Needing to Emotionally Support One Another
Daily life is filled with stressors, from tough days at work to screaming kids — even figuring out what to have for dinner can be enough to push you over the edge some day. As a couple, though, it's your responsibility to help your partner through those stressful times — and they'll do the same for you. Whether it's talking through your worries or shouldering a little more of the housework for a few days, emotional support comes in many forms.
Unfortunately, it can be difficult to find a time and place where you are both happy and able to spend time together. This can place significant strain on your relationship if you are always having to bear the burden of one another's stress. Luckily, a couples massage can be an oasis in a sea of stress that you can both enjoy.
This is because a massage encourages your body to release more of those feel-good chemicals, like dopamine, serotonin and oxytocin. It's part of why you feel so relaxed after a massage. And it's your opportunity to spend some stress-free time together. It can help you reconnect, remembering why you fell in love in the first place and making your relationship stronger.
4. It Can Increase Your Feelings of Affection & Desires for Intimacy
Those naturally occurring chemicals don't just help you relax though. They also play a role in increasing your affection towards your partner, as well as making you more keen for intimacy, including physical intimacy.
If you have more than just a massage as part of your spa package, you can increase and prolong the release of these hormones through continued touch, such as a facial or foot spa. Similarly, if you also have the opportunity to enjoy a sensual spa bath together, you'll be able to be close with one another in a private and rejuvenating space. Then after all the treatments are done, you'll likely want to return home and continue to be in each other's company, if not in each other's arms.
5. You Can Care for Both Yourself & Your Relationship
A relationship is a partnership, whether you are intimate or just close friends and confidantes. To ensure this partnership thrives, you need to feel good within yourself to begin with. This is why self-care and taking time to meet your needs is so important. With the clarity that comes from understanding your own wants and desires, along with the energy from being rested and at peace with yourself, you can be your best self in the partnership.
A couples massage is special as it allows you to both care for yourself and your relationship. You may only have limited time you can get to spend one-on-one with your partner; therefore it can feel selfish to choose to do something that's just for you. However, a couples massage is the best of both worlds. You can care for yourself, lowering stress and treating tired muscles, while also spending that valuable quality time with your partner.
Where Can I Get the Perfect Couples Massage in Melbourne?
Come visit us at V Spa Hotel! At V Hotel Spa, we offer luxurious and rejuvenating spa experiences right in the heart of the CBD. With a host of spa treatments on offer, including our popular Every Couple's Escape package and Couples Sublime Spa Package, you and your partner can discover a truly relaxing and romantic experience together. And with trained massage professionals caring for you, we can always tailor your experience to suit your needs, including providing a safe and soothing pregnancy massage.
Reconnect & Relax With Your Partner at V Hotel Spa
Treat yourself and your relationship to a massage and spa experience unlike any other. Book your couples massage with us today and look forward to a blissful mind and body treatment that will leave you glowing inside and out.